Having begun my research into scenic artwork and set design, I began to think about other areas that employ set designers within the creative industry (rather than just film and theatre). I have already started to look into set design in the music industry, but another area that I had not thought of before was Fashion Show runways. Fashion shows are becoming far more elaborate than just models walking down a runway, sets, props and the 'costumes' all come together in a theme based around the clothing designers work to produce a show on the runway stage. Following on from this thought I decided to research a variety of shows that contain different set and theatrical elements to explore another potential area of employment.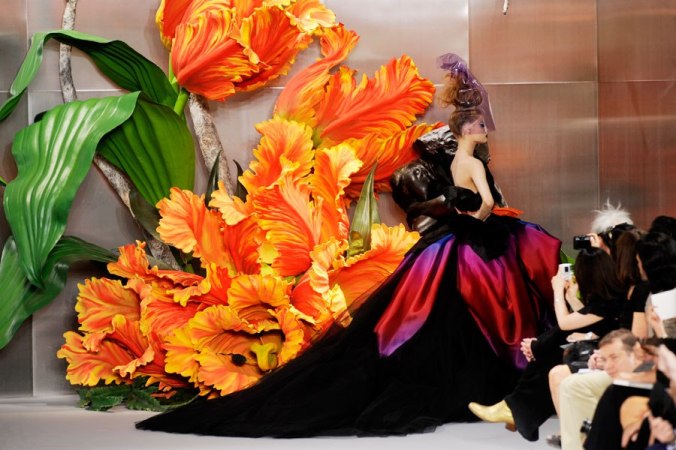 The first show is Dior's Fall 2010 couture collection (pictured above) with the set designed by film designer Michael Howells. As I said before, the sets for these runways shows have to be carefully designed to tie-in the clothes and the environment around them and Michael Howells did this for the Dior collection by taking inspiration from the 'tulip' shaped skirts of the outfits and then creating large life-like flowers for the set. As well as the Dior set, he has also designed for Mulberry, Anya Hindmarch and several Ballet shows.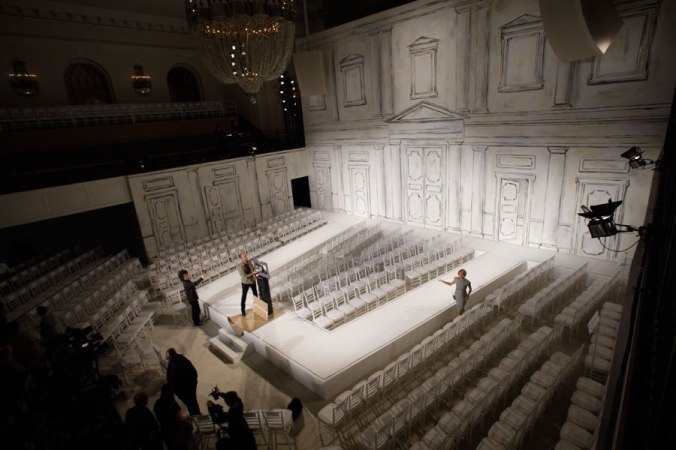 Stefan Beckman was the design group behind the Oscar De La Renta Spring 2009 collection runway set, creating a Trompe L'oeil building backdrop on stretched muslin inspired by a New York building. The clothing collection was made up of gowns and suits that suited the traditional, classical building background behind helping to bring together the set and style of the clothes. Stefan Beckman is a production design company, focussing on the various aspects of the fashion industry to create runway show sets, editorial pieces and store window displays. They are often involved in the design and creation process for many designers at New York Fashion week and other big events, such as the Marc Jacobs Spring/Summer show 2015 where the set included this large central 'house' piece (pictured below) which I particularly liked as a set structure that could also be seen in a modern theatrical piece.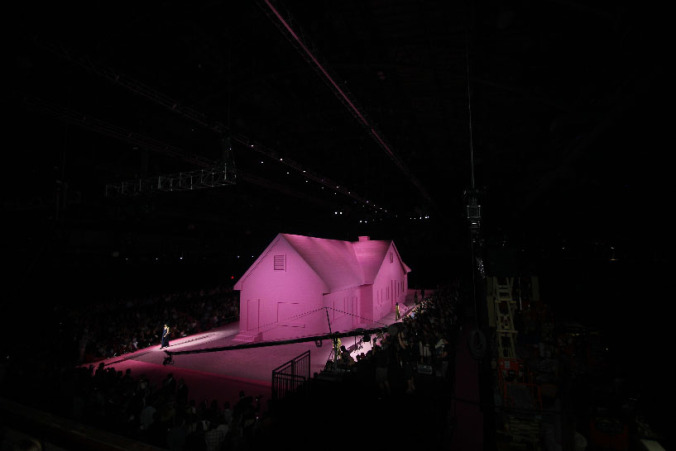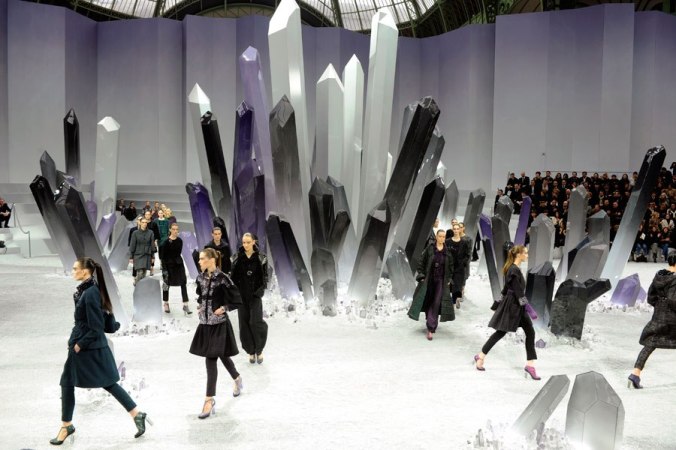 This 2012 Chanel show linked the set and clothing elements through the shapes and elemental idea of rough cut minerals. The set structure of the crystal-like elements extended far above the models heads, making them imposing and impressive, creating a sense of awe within the audience, only exaggerated by the related clothing and how the colours and shapes etc. link together. I liked this set, as the structures themselves are fairly simple, but they create a big impact and highlight the natural elements within the collection.
'Nature is the best designer'
Sources:
http://www.architecturaldigest.com/ad/set-design/2012/fashion-show-set-design-chanel-louis-vuitton-marc-jacobs-slideshow?title=1
http://www.clmus.com/set-design/michael-howells