Last year, I read a book called 'Sign Painters' by Faythe Levine and Sam Macon and I was really inspired by their interviews of signwriters and painters across America, and their work that featured in the book. Once I had finished the book, I wanted to know more about traditional signwriting and how to do it. As I had imagined, it is quite a complicated process and requires many skills and techniques that take years of practicing to master. Still, I was determined to know more so I signed up for a course on the edge of London run by Nick Garret, professional signwriter and teacher, who has not only produced hand painted signs for many well known retail outlets and stores, but has also designed products and household objects for the UK market.
On the first day of the course we began with an introduction to signwriting, including the type of materials you will need, how to take care of your brushes, how to prep surfaces and work outside and an introduction to lettering and typefaces. After this we began drawing up our own letters whilst learning how to space them and proportion the different sections of the letters – for example the weight of the curve of a 'P' to it's straight edge. This introduction would then allow me to develop my own typefaces and layout designs for a specific sign and increase my knowledge of other fonts and typefaces.
Once we had learnt about drawing up letters, we could start to paint… first of all we were taught how to hold the palette, brush and mahl stick and position ourselves correctly to what we were going to paint before paleting our brushes and controlling our breathing. We used line and curve practice stokes to get used to the brush, paint and using the mahl stick, which felt very unnatural to begin with and took some getting used to. However, this time really allowed me to fell the stroke of the brush and help my control over the direction I wanted it to take.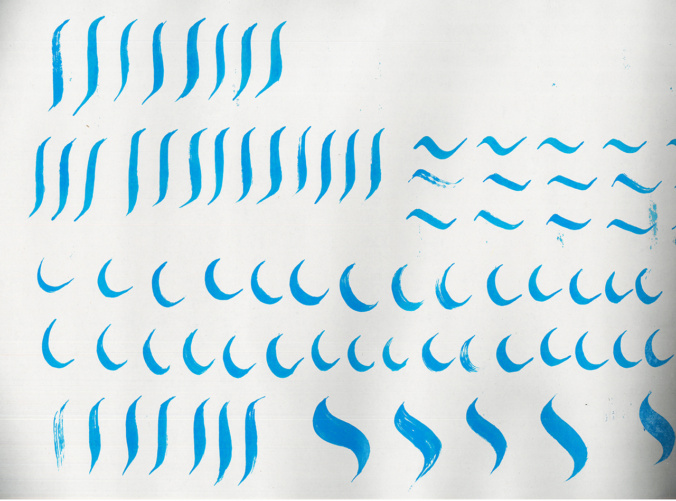 On the second day of the course we took print outs of various letters and typefaces and traced parts of these so we could begin painting letters and practicing curves, straight strokes and corners. I really enjoyed painting the letters as I found it easier to practice the strokes inside bigger forms and being able to follow recognisable shapes. Having only been painting for a few hours in total, it was still very challenging, especially when trying to follow large curves on letters like 'C' and those with many corners.
Overall I really enjoyed the course and found it very informative and challenging, however I felt like I wanted to take on the challenge and I feel motivated to continue improving this skill. After the course I started to collect the kit and materials needed including a range of specialist brushes, paint, palette etc. and although I haven't been able to start practicing again until recently, I am very keen to improve in this area and I would really like it to be something I can translate into the area of Entertainment Design, for historical or restoration work, or period film sets etc. I am very excited to see where I could take this.